Curators of Cutting-Edge Technology Solutions
Our people and the services we provide define our home automation firm. We take pride in delivering a first class client experience.
Who We Are
Since day one, AV Solutions, Inc. believes that a successful company is built by consistently delivering the highest quality service, products, and value to every customer.
At AV Solutions, Inc.,we stand out as one of the premier home automation installation companies in the Atlanta and Tampa metro areas, based in Cumming, GA. We take pride in educating our clients on the current, cutting-edge technology that is available so we can implement systems that fit their lifestyles.
In an ever-evolving tech landscape, we continually adapt our service offerings to meet your needs. Our creative and knowledgeable staff leverages their design expertise to craft your home theater, whole house audio, and automation system. As one of the leading home automation companies near you, we look forward to collaborating with you on your project, transforming your Cumming residence into the home of your dreams.
Our Values
Experience
Our many years of experience as a home automation company give us the ability to provide you top-notch audio & video design and installation services.
Product Knowledge
Understanding our home automation products combined with our experience gives us the ability to maximize the potential in every room.
Exclusive Customer Service
Our work is our passion and AV Solutions strives to satisfy our customers by giving them exceptional quality and superb customer service.
Paul Tordik
Paul is an accomplished entrepreneur and a true visionary in the world of home automation. With a history of successful business ventures, he has consistently demonstrated his ability to turn his passions into thriving enterprises. His unwavering dedication to enhancing the lives of his customers through home automation has been a driving force behind his career.
Read More
A History of Entrepreneurship:
Paul's journey as an entrepreneur is marked by a series of successful ventures. He has consistently been at the forefront of innovation, bringing cutting-edge technologies into people's homes. His enduring passion for home automation has been a guiding light in all his endeavors.
Founder of AV Solutions:
As the founder and owner of AV Solutions, Paul is deeply committed to providing his customers with unparalleled experiences. His mission is not just to meet but to exceed customer expectations, making their homes places of joy, comfort, and convenience.
Passions Beyond Business:
While Paul's professional life is marked by innovation and entrepreneurship, his personal passions are equally significant. From a young age, he has had an insatiable love for tennis, a sport that continues to bring him joy and challenge him to excel.
In his leisure time, you'll find Paul either riding motorcycles, playing tennis, hanging with friends, or boating. Boating is a pastime that allows him to connect with nature and unwind. Boating provides a sense of freedom and tranquility that balances his dynamic professional life.
The Importance of Family and Friends:
For Paul, the true measure of happiness lies in the company of loved ones. His friends and family are not just a source of joy but also the foundation of his grounded perspective. The relationships he cultivates outside of work provide the balance and fulfillment that fuel his personal and professional success.
Michael Brown
Michael is a multifaceted individual with a diverse background that has shaped his interests and professional journey. Born with a passion for both the outdoors and technology, Michael's life has been a blend of athleticism, adventure, and a commitment to delivering top-notch service to his customers.
Read More
Athletic Beginnings:
Michael's journey started at Arizona State University, where he excelled as a student-athlete, playing Division I football. This experience instilled in him the values of discipline, teamwork, and perseverance. It was on the football field that he learned the importance of dedication and hard work.
The Great Outdoors:
Beyond the gridiron, Michael's heart belongs to the great outdoors. He finds solace and adventure in activities like camping, hiking, snowboarding, and mountain biking. Whether he's conquering a challenging mountain trail on his bike or carving through fresh powder on a snowboard, Michael embraces the thrill of the wilderness.
A Tech Enthusiast:
Michael's professional journey led him into the world of technology, where he discovered a profound passion. He's been a part of leading telecom companies and has honed his skills to provide exceptional service to customers. His commitment to delivering the best experience extends to both personal and professional aspects of technology.
Education and Ambitions:
Education is a constant pursuit for Michael. He has already achieved a Project Management Professional (PMP) certification and is currently working towards earning his Business Degree. This dedication to learning reflects his desire to grow and excel in his career.
Customer-Centric Approach:
At the core of Michael's professional philosophy is a commitment to customer satisfaction. Whether he's working on creating the ultimate home movie experience or ensuring impeccable sound quality indoors or outdoors, his focus is always on providing the best possible service and experience to those he serves.
Eric
Eric joined AV Solutions in October of 2021. In his role of Supervisor/Technician, his main focus includes the wiring & hardware portion of the installation process.
Read More
With a background in electronics and over 16 years of experience in the industry, Eric has had the opportunity to work on custom automation and electronic projects in the residential and commercial space that have led him to travel to all 48 continental states.
When it comes to his role at AV Solutions, Eric truly enjoys working with the whole team and credits their success in every installation to the team's cohesiveness, experience and love for the job. Outside of having great chemistry with his coworkers, Eric truly enjoys communicating with our customers and providing insights to operating the different tools we install. He also likes his flexible schedule and the trust that the company's owner, Paul, has for the team.
Eric's favorite projects include full home automations where he drives a fully-loaded truck to the customer's home and installs wiring, TVs, Electronics, and brand-new top of the line equipment. Eric shares, "It's so much fun to see the face of the customer when they see everything work together."
Jason Hopper
Since a young age, Jason Hopper was interested in technology. Now, he is part of the AV Solutions team as a Supervisor/Technician with a focus on system programming.
Read More
Jason contributes over 15 years of professional experience to the AVS team, which includes time he spent working as a projectionist for one of the largest movie theater companies in the country and educational experience in Dolby Sound.
Jason joined our team in the beginning of 2022, and since day one, he has truly enjoyed the quality work produced by our company, the expertise of our team and the happy faces on our customers faces after a project is completed.
A day on the job for Jason starts by visiting the office in the morning to catch up with the team about current and upcoming projects, then heading out for the installations. He enjoys working with the AVS team because of the experience everyone contributes and the way they complement each other.
Jason's favorite projects include home theater installations, especially with intricate lighting systems. He loves to see the excitement in the customers once the theater room is done and all of the components are turned on. For Jason, the best part of AVS is the quality of the work they produce. Jason loves how thorough the team is with their jobs from start to finish, and how he can leave knowing the job was done all the way through.
When asked what item he would automate if he could automate anything, Jason shared that he would further develop automated cars!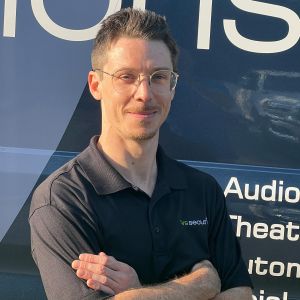 Julio Allen
Awards
---

Credentials
---